..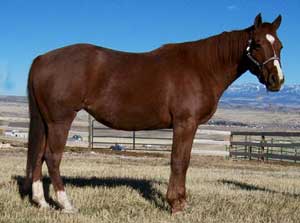 Peanut Brudder N Jelly
2002 Sorrel Mare
by Docs Sugs Brudder out of Eddies Tina Marie

PBNJ has a great attitude and is very willing to please. We had high hopes for this mare until she cut her leg. We have 2 Highlightcat's foals 2010 Gelding & 2011 fancy filly. In foal to Stylish Rey for a 2012 foal.
Docs Sugs Brudder

get earnings $1.90 Million
5 AQHA Champions
1 Supreme Champion
3000+ AQHA Points

Doc Bar
Lightning Bar
Dandy Doll
Bar Gal
Sugar Bars
Cowgirl Krohn

Eddies Tina Marie
AQHA Point producer
Top Ten Congress producer

Mr Eddie Glo

Mr Joe Glo

Eddie's K Day

Miss Chesty Dee

Chesty Dee Dunny

Dee's Teda
---